Assisted Living that's a Neighborhood, Not a Facility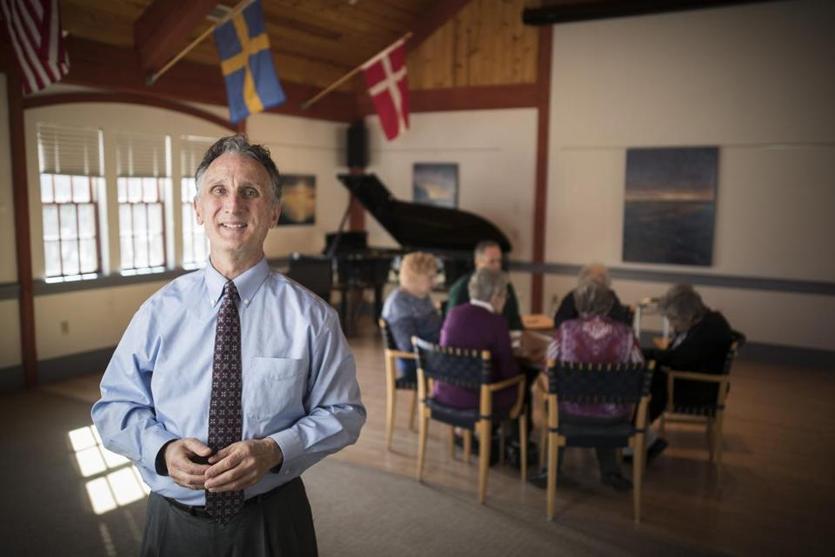 By Cindy Cantrell Globe Correspondent
In addition to having an assisted-living community of 40 one-bedroom apartments, the nonprofit Scandinavian Living Center in West Newton welcomes approximately 2,000 community members monthly to a pop-up café, meetings, performances, film screenings, and other events at the adjacent Scandinavian Cultural Center.
Executive director Joe Carella, author of "Creating Unlimited Options for Aging: The Path Forward," traces his passion for elder care to his teen years. After injuring his knee, he was initially hospitalized in a geriatric unit, where he resolved to identify a better alternative to institutional living. After receiving an MBA from Babson College, he traveled to Scandinavia to learn about its system of elder care, which is reflected throughout the center.
Q. What distinguishes Scandinavian Living Center from other assisted-living facilities?
A. Our center wasn't built just to house people. It's a neighborhood that has housing within it, all designed to gather people and keep them connected to one another.
Q. How is that accomplished?
A. Half of our square footage is common space that's welcoming to everyone. We also give our residents autonomy, encouraging them to take responsibility for decisions and empowering them. If everyone incorporated Scandinavian principles the right way, it would be a game-changer for the entire [assisted-living] industry.
Q. What are those principles?
A. We embrace community-centered living with a light-filled design that brings people together, allowing for natural human connections to occur for all ages. We don't just think about what we can do for elders, because it's that kind of institutional thinking that contributes to their isolation. We focus on what we can do for the community, while providing a safe environment that ensures elders can remain active.

Q. In what ways?
A. We encourage residents to maintain their hobbies, interests, and lifestyle. We have 25 to 30 organizations that meet here, so our residents can join a group that maybe they wouldn't otherwise participate in without transportation. Having the Scandinavian Cultural Center and all its events right here is another opportunity to try new things.
Q. What is your ultimate goal, for yourself or the organization?
A. I want to be a catalyst for others to embrace community living. It's a gift that we should all be able to enjoy for the rest of our lives.
Scandinavian Living Center is at 206 Waltham St., West Newton. For more information, call 617-527-6566 or visit slcenter.org.
Cindy Cantrell may be reached at cindycantrell20@gmail.com.