Taking Care of Our Elders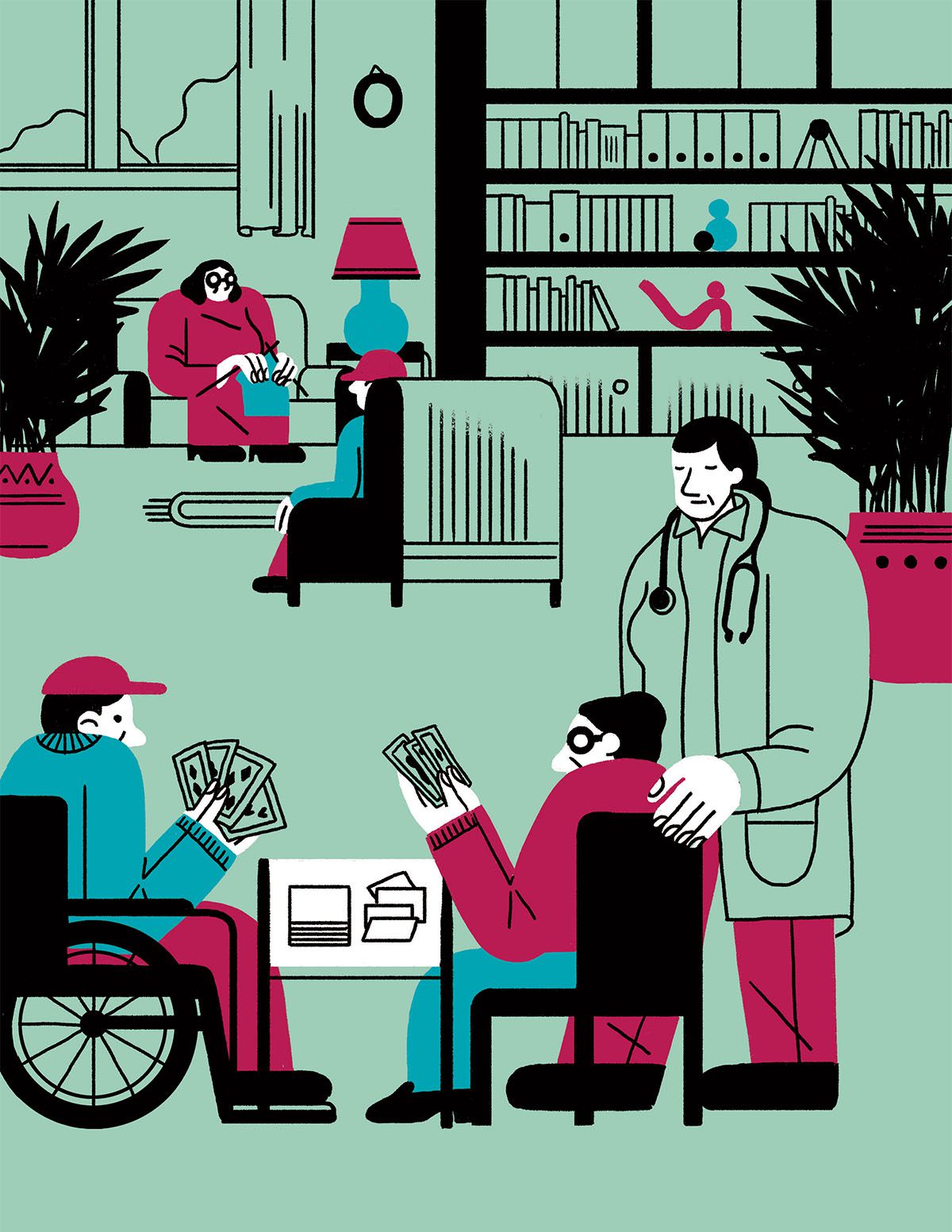 They are our most venerable citizens. They have spent their lives raising children, building careers, and answering the call of their community and country. As they age, however, our seniors need care, attention, and often a new place to live. The business of senior housing is challenging, marked by inadequate reimbursements, stifling regulations, and complicated medical conditions, but these alumni strive to provide a warm, safe place to call home.
By John Crawford
Joe Carella, MBA'89, was more or less a typical teenager in the 1970s. A football player, he was strong, cocky, and fearless, and his day-to-day concerns ran the usual gamut of sports, girls, and school.
Then at the age of 17, a freak accident forced him to change his perspective, to think beyond his narrow teenage preoccupations. Tearing his ACL while working out, Carella went to the hospital but was told that the pediatric ward was "closed." Instead, the hospital admitted him into an unfamiliar place: the geriatric ward.
Not even knowing what the word "geriatric" meant at the time, Carella was crowded into a room with two older men. One was lost in the advanced stages of dementia, his only human interaction coming when a nurse brought him food. Carella's other roommate, facing the loss of his legs due to gangrene, was quiet and despondent. From his bed, Carella could see other seniors slumped in wheelchairs along the hallway.
The sad, impersonal geriatric ward troubled Carella. He felt helpless and anxious. He worried about his roommates. After four days, he successfully lobbied the head of nursing to move him to pediatrics, though his experience in the ward never left him. It would change the course of his life, inspiring him to work with seniors as a career. "There's a phobia in me that I will return there," says Carella, who, even now, has woken from sleep thinking he was in the ward. "That drives me, that feeling I could go back, that someone I love could go there." Today, Carella is executive director of the Scandinavian Charitable Society of Greater Boston, which operates the Scandinavian Living Center, a nonprofit assisted-living residence in Newton, Massachusetts.
Carella is one of a number of Babson alumni working in the rewarding yet challenging world of senior housing, making sure that our most esteemed and respected citizens, our parents and grandparents, our elders, have a safe and welcoming place to live.