Chapter 1: A Personal Journey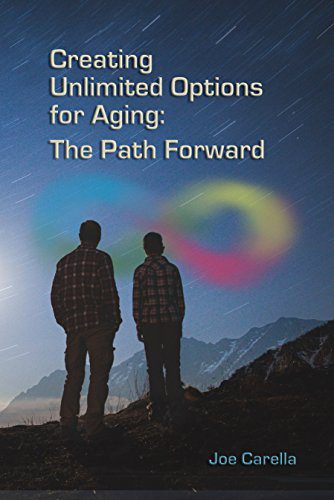 Available Now in Paperback and eBook:




Creating Unlimited Options for Aging: The Path Forward
Preface
I believe that the principles in Creating Unlimited Options for Aging can be appreciated from any worldview and applied in any cultural context. I can attest that the fundamentals that Joe identified in his Scandinavian research are today providing a rich way of life for the residents of the SLC, their families and the community of West Newton, Massachusetts.
I believe the community-centered approach Joe shares could help meet the common needs of an aging population in any societal context. The elder quality-of-life would be the better for it and all members of society enriched.
David Wilson, MA, is a health economic and outcome researcher who heads Evidence Development Strategy Consulting. He has held positions within medical device, biopharmaceutical, consulting, and contract research organizations companies as well as academia. Mr. Wilson currently sits on the boards of Lexington Christian Academy and the Scandinavian Charitable Society of Greater Boston.
Introduction
Humility is when you understand that you know less than others. Confidence is when you understand what little you know is right.
This new book, Creating Unlimited Options for Aging, lays out the rationale for community-centered living, explores its ramifications, and examines how it can be instituted on a worldwide, multi-cultural basis. To understand the deep implications of this principle, I need to explain how my own life experience shaped its creation as well as the other core values of Unlimited Options for Aging. So I begin this book with my personal journey and how crucial events in my life and key people shaped my vision. The journey begins, as do so many, in my childhood. But it begins with a profound tragedy.
Chapter 1
A Personal Journey
"Without everyone, we are no one."
Finn Kristoan Hannestad

Growing up in Arlington, Massachusetts, in the 1960s, I knew every family on my block – and there were more than 30 children, eight young couples and a dozen elders. The most important people to me were the family across the street. Dorothy and Ralph Guanci had seven kids – and there were six kids in my family. My good friend Joe Guanci was, like me, the youngest sibling. My oldest brother Charlie was a paperboy like Jerry, the oldest Guanci boy. Indeed, it seemed each Guanci kid lined up some way with a kid in our family. We were always in each other's home. The Guanci connection taught me about friendship. It also taught me about tragedy.
Shortly after Joe was born, Dorothy Guanci passed away. The father's mother moved in to assist her son Ralph rear the seven children. Mrs. Guanci had already raised six children and had recently lost her husband. Now, she was called upon to help raise another large family. Eventually the neighborhood became part of the supporting fabric that helped Mrs. Guanci care for her family. We felt like we were part of each other's lives.
Everyone in the neighborhood seemed to know each other well and we all talked – young or old – when we met on the street. For example, knowing that I was not fond of potatoes, one of my older neighbors, Pop Lionetta, shared a simple and tasty potato recipe that I have never forgotten. I have shared it with my own family, and in a small way his legacy, this connection, continues. I often ran errands for Mrs. Stanley, another elder, and we had wonderful conversations. Once, she saw that I was a little upset with my older siblings, and she offered a bit of wisdom. She told me that as the youngest in my family, I had the opportunity to observe the mistakes of my five older brothers and sisters and that through these observations I would find a way to avoid similar missteps. I did not realize it at the time, but this bit of wisdom stuck with me for years.
I remember the time when my brother Bob begged our grandmother to visit Mrs. Guanci to talk her out of not punishing her grandson – his best friend Peter – so he could play with him outside. After several minutes of a heated Italian discussion between the two elders, Peter was released and out he came with a big smile on his face. Both grandmothers would cross the street to visit each other and share their stories and in some cases, help each other out. Years later Mrs. Guanci would find time to visit my grandmother and assist her with changing her dressings as she was recovering from medical treatments. She continued to help up until my grandmother passed from cancer.
One summer the oldest boys from both families, Charlie and Jerry, both paperboys, won a contest held by the local newspaper; the top prize was a trip to New York City for a fun-filled weekend. The boys could barely contain their excitement. Charlie and Jerry just completed eighth grade, were the best of friends, and were naturally overjoyed about the opportunity to visit New York City. On the day of the trip, both boys had finished packing and just needed to deliver the final Friday newspapers before embarking on what seemed to both a trip of a lifetime. With great anticipation, they both went off to complete this last responsibility. Two hours later, Charlie returned from his paper route to discover that Jerry had been hit by a truck and killed.
Once again, the Guanci family experienced another unthinkable tragedy. Yet the family and the neighborhood became closer; together we sought a way to help them to live through this horrible accident and find a way to happiness again. Two years later, the father suddenly passed away. A young family, once so full of life and enthusiasm, now found themselves faced with no parents, the loss of the oldest child and a grandmother who had been asked to take on the responsibility of rearing six young children. Overnight it seemed that our families came together and that our family had enlarged by six children plus a grandmother.
Amazingly, the Guanci family not only overcame these tragedies, with their grandmother's leadership, they moved forward in life. Growing up, my best friend Joe was a model of natural kindness, but more importantly he, like most of his siblings, retained his funny bone and would instill in me the importance of laughing at many moments in life. Often, I would find myself in tears from laughing so hard – Joe could make me laugh at almost anything in life. Through this family's tragedies and their examples, I would come to embrace the importance of moving through difficult times with a conquering spirit, a kind smile, and a humorous attitude. Through Mrs. Guanci, we would learn that in dealing with setbacks or terrible lows, life must carry on and you are never too busy to be part of helping others.
My neighborhood represented a small village of people who came together to help each other. The village movement created several years ago has its origins from this type of neighborhood. Unlike today's village movement in which middle-age and older adults volunteer to help each other out, a more natural village is made up of all ages, like my street in Arlington. My neighborhood and my experiences there, particularly with the Guanci family, evolved into my commitment to the idea of community-centered living.