Screening: Cannon Arm and the Arcade Quest
SATURDAY, SEPTEMBER 23RD, 2023 AT 1:00 PM EST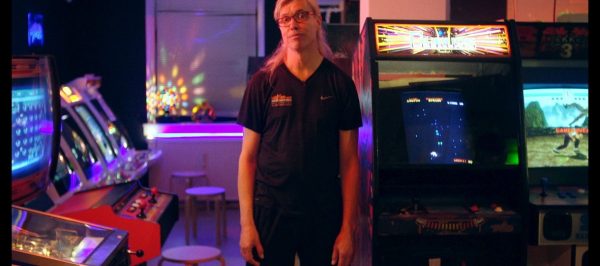 For as long as human beings have existed, so has competition and different ways of challenging yourself and each other. An urge that can be traced all the way back to cave paintings, which pictured people competing with one another.
Kim Cannon Arm is a true legend of arcade games. He and his friends from Bip Bip Bar set out to break the world record of his favorite game Gyruss, which is known as one of the most intense arcade games ever invented. He is planning to play nonstop for 100 hours – that is four days in a row. Kim obviously needs to be in good physical shape before he tries to break the record, and the game needs to be specifically planned so that Kim can once in a while get a 15-minute break on a mattress in the corner.
Director Mads Hedegaard has created a film full of vibrant colors, electric sounds and catchy music by Iron Maiden, Bach and Bonnie Tyler as well as a big love for all the characters in the film. The friends from Bip Bip Bar play all the old games that have paved the way for the big esport tournaments and star players of today. Playing is a way to challenge ourselves individually, but also something we do together.
Cannon Arm and the Arcade Quest is about fellowship and the bonds that keep people together. Kim, Carsten, Dyst and their friends have found each other in arcade games. Only with community can it be possible for Kim to achieve his goal.
In Danish and English with English subtitles | 97 minutes
Saturday, September 23rd, 2023 | 1pm | $10; $5 for SCC and Scandinavian Library members | Tickets